Taha Auto Wreckers Wellington
Contact Us
Car Wreckers Wellington: Quick & Easy Auto Salvage Services
Dismantling Yard: Huge Range of Spare Parts
Welcome to car collection, one of best and premium car buyers and dealers in Wellington. We specialize in buying unwanted vehicles.
We accept all old, scrap, used, accident and damaged vehicles (1999-2019). We offer a wide range of services like cash for cars, free car removals, car wrecking and recycling in all suburbs of Wellington.
We will tow a wrecked, damaged, used or junk car, truck, SUV or 4WD for free today. You can even drive it to one of our local yards and get cash for your car faster. Either way, cash for cars wellington pay you the same day we receive and buy your used auto.
Free Accidental and Flood-Damaged Car Removal Wellington
Our services also include removal of insurance write-off cars from a distant site. We cover all the Wellington suburbs. Let us know your exact location and we make special arrangements to get to the site.
Best Car Wreckers in Wellington- Get the most out of your Unwanted Vehicle
Auto Wreckers Wellington buy & remove all sort cars, Subaru, Mitsubishi, Ford, Mercedes, Honda, Ford, Toyota, Nissan and more in Wellington and beyond Greater Wellington. Auto Wreckers Wellington also pay cash for all commercial cars such as 4WD's, Vans and particularly Trucks. Auto Wreckers Wellington provide a cash for cars removal service in Wellington and surrounding suburbs; with over 20 years of experience in Car Removal, be sure to get best service on any auto removal you need, whether removing a truck or a car, a scrap vehicle or an used car, call 0800 83 87 83  to get a cash price over the phone.
Auto Wreckers Wellington pay instant Cash For Cars throughout Wellington suburbs (all areas). Car collection is one of the top payers for your unwanted cars which may be in new or used condition. To get a quick quote, please call us on  0800 83 87 83  for a free estimate and pick up arrangement, possibly same day service, depending on staff availability.
Auto Wreckers Wellington Region
If you are looking at selling your car van SUV truck even caravan and want friendly and reliable vehicle wrecker at a more than reasonable price, give us a ring on 0800 83 87 83 to sell your scrap car. We pay awesome cash for unwanted cars.
Second-Hand Car Parts in Wellington Capital
We get hundreds of cars brought in for recycling on a daily basis. Our Auto Wreckers Wellington has a wide collection of discarded automobiles most of which have perfect parts. We use all these parts to fix other cars almost all the time. We also have a variety of used car batteries and tires all in good shape. We usually Everything sold at our yard is way cheaper compared to its market value.
Auto Wreckers Wellington stock and supply quality auto recycled car parts for all makes and models of Asian (including Toyota, Mazda, Honda, Subaru, Mitsubishi, Nissan, Kia, Daewoo and Hyundai), European (including Audi and BMW) cars as well as a large selection of all Holden and Ford car parts.  Whether you are a DIY or automotive businesses, you're constantly searching for quality recyclable car parts that have been cleaned, tested and given a real warranty.
We run stock of Japanese car parts along with some European parts. To check availability of a specific part, give our car parts team a call on 0800 83 87 83 or fill out the form on the right.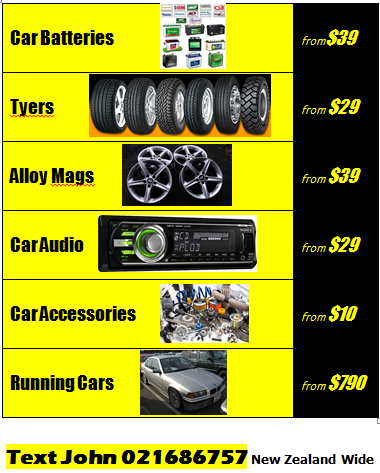 Car Wrecking Services for  Cars, trucks, vans:
At Car Removal, Wellington we buy and sell all used and junk cars for cash today – All years, makes & models in any condition. With Guaranteed pricing, FREE TOWING & CASH PAID on the spot. We buy your old, wrecked, damaged and unwanted car removal for cash Hassle-free. Simply provide us with the year, make & model and a small description of what is wrong with your unwanted vehicle (Car, Van, 4×4, Truck…) & with in seconds we can quote you with the highest CASH for your unwanted car removal in Wellington area.
Cash for Cars Wellington, Tawa, Kapiti, Upper Hutt, Lower Hutt, Porirua, Paraparaumu
Car collection's nationwide network of auto salvage yards has now spread across all the towns of Wellington region. The Auto Wreckers Wellington and salvage yards are located at Address. 136a Hutt Park Rd, Seaview, Wellington. You can call at 0800 83 87 83 to ask for assistance. All of our services are top-notch and guarantee a hassle-free experience. Our services include:
At Auto Wreckers Wellington we pride ourselves on our fantastic customer service, parts knowledge, and fast delivery service to supply you with the best-used parts for a range of manufacturers including Ford, Holden, Mazda, Toyota, Nissan, Mitsubishi, Subaru and more.