NISSAN WRECKERS WELLINGTON
Genuine Nissan Car Parts Wellington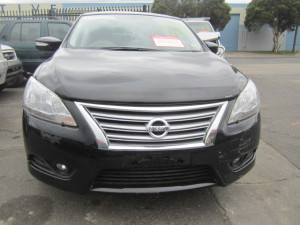 Nissan vehicles have high quality parts which provide consumers the type of vehicle that can perform on-road and off-road. However, nothing lasts forever. Eventually your Nissan will begin to experience mechanical failures. Some are the result of the owner failing to maintain it properly and sometimes the materials just have a shelf life. Regardless of the reason, Nissan replacement parts aren't cheap, whether you get them directly from the manufacturer or not. So what do you do? Knocking bank's door for auto loan to buy a completely new car may not be within your budget. Fortunately, Nissan Car Wreckers Wellington can help.
The good thing about using Nissan Car Wreckers Wellington is that you can count on them providing you with reliable and authentic spare parts. In addition, they offer a guarantee on the replacement parts. Some even come with insurance so you won't have to spend any extra money if the parts fail. Some Nissan wreckers even give you with the convenience of going online and searching for the parts you're looking for online as opposed to going out of your way to ask them face to face.
Nissan Car Wreckers Wellington make sure to provide quality services to Nissan car owners that are fast and inexpensive.
Free Wellington Nissan removal & instant cash
You can sell your Nissan to our Wellington wreckers and get the very best price for it. Our team pay up to $9,000 cash for any Nissan car, ute, van, 4WD or truck. Nissan Car Wreckers Wellington also buy vehicle made by any of Nissan's related companies – Datsun, Infiniti and UD Nissan Diesel vehicles.
Want a free cash quote for your Nissan and to book free removal? Just call us on 0800 83 87 83. You can also use the form on the right and we'll call you back shortly.
Nissan Car Wreckers Wellington offer completely free removal services for Nissan vehicles throughout the Wellington region. You can book our Nissan removal team by calling us on 0800 83 87 83. Nissan Car Wreckers Wellington offer the same free car removal services for all other Japanese makes as well.
Nissan Car Wreckers Wellington
Below is a list of common Nissan models that we regularly pay cash for and dismantle. If your Nissan isn't on the list, don't worry – Nissan Car Wreckers Wellington will still buy it.
Nissan Navara, Nissan Maxima, Nissan Silvia, Nissan Sentra, Nissan Avenir, Nissan Bluebird, Nissan Cefiro, Nissan Elgrand, Nissan Frontier, Nissan Fuga, Nissan Skyline, Nissan Patrol, Nissan Primera, Nissan Pulsar, Nissan Sentra, Nissan Serena, Nissan Sunny, Nissan Terrano, UD trucks, Nissan Diesel… etc.
Spare Parts Nissan: Engine, Alternator, Starter Motor…
If your Nissan needs a replacement part, you can get quality second hand Nissan parts from us! All parts are checked for quality prior to every sale and you can save a lot of money compared with buying brand new parts. Find out more about used Nissan parts here.
Useful Links