Used Auto Parts in Auckland
With any automobile, you will run into situations where you will either need a repair or even need to get rid of your unwanted automobile. When this happens, you need an auto parts specialist you can count on to help you with your vehicle needs.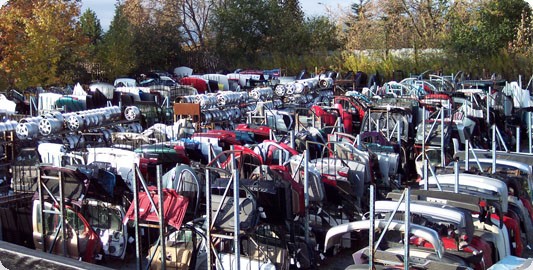 You can always save money by purchasing used auto parts that have been inspected by our Auckland car wreckers specialists. We always have cheap car parts available for a variety of vehicles. You can be at ease when you are looking for Car Wreckers Sell Parts in Auckland. We always stand behind our products and services and make sure our customers always get high-class service.
When you want to purchase superior quality used car parts and need help in getting what's right for your car, come to the best in town: Car Collection. In addition to our top-notch recycled auto parts, we also offer junkyard and salvage yard services to Auckland and surrounding areas.
We are proud to say we are a family-owned business since 2005. Our team is friendly, passionate, dedicated and extremely knowledgeable in helping you with any question or concern you may have. Because Car Collection sells top-notch used auto parts for all Japanese, European and Korean makes and models, it's super fast and easy to find what you're looking for.
Whether you need auto parts or junk car removal, Car Collection in Auckland can provide you with all the products and services you need. Finding the right place for quality car parts in Auckland can be difficult, but our team of experts is here for you!
Second Hand Parts in Auckland
If you are doing your own repairs, we can provide you with the second hand parts in Auckland you need to get the job done for less. The used parts we sell will function as new. Some dealers will try to pressure you to buy new parts, but with Car Collection, you have a choice. Furthermore, the parts you purchase from us have gone through heavy inspection. The car parts in Auckland you buy ought to be fully functioning and long-lasting. Our technicians have a highly trained eye and have worked with used car parts for more than five decades. You can always count on used car parts from Car Collection.
There are a variety of benefits that come with buying used auto parts from us like:
OEM Quality: Many of the used car parts we sell to Auckland residents are made by the original manufacturer. This means you will not have to worry about these parts fitting correctly. Many of the new parts on the market advertised as "universal fit" require a lot of modifications.
Saving Money Is Easy: For most car owners, buying used parts is all about saving money. When using our cheap car parts, you will have no problem staying within your budget. Our goal is to supply our customers with cheap auto parts that are durable.
Junk Cars Auckland
Junk cars can be an unsightly addition to your yard. We will offer you cash for junk cars, so you don't have to deal with a junk car taking up space in your driveway, in your garage or in your yard. We will even pick it up from your Auckland area residence FREE of charge. There are many companies that will try to take advantage of your situation. You can be assured when you deal with a representative at Car Collection; you will always get a fair deal. We are always keen on giving free estimates on any vehicles you may want to get rid of.